Run site:- Kanchanapisek, Cowboy Restaurant (
ถนนกาญจนาภิเษก คาวบอย เนื้อตุ๋น

)
By Airport Rail Link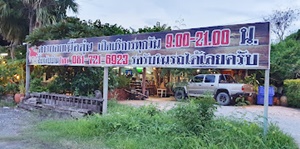 Take the train to Ban Thap Chang.
Go through the ticket barrier at the airport end of the concourse.
Go to the right hand corner and take the elevated walkway that eventually goes across the motorway.
Get a taxi heading out of town and ask the driver to take you to Cowboy Restaurant - 4km.
By Car/Taxi
Take the Sri Rat (Rama 9) Expressway (ทางพิเศษศรีรัช) east towards Sri Nakarin Road.
Cross Sri Nakarin Road (ถนนศรีนครินทร์) and after 1km filter left into the frontage road just before a footbridge.
Continue straight on and follow the road as it bends left and becomes the frontage road to the outer ring road (Kanchanapisek).
Continue straight until you go under the new Sri Nakarin-Romklao Road (ถนนศรีนครินทร์-ร่มเกลัา.). The Cowboy restaurant and parking is then 100m on the left.
Useful words to say to your driver
Turn left Leo sigh
Turn right Leo kwah
Straight on Trong pie
Stop Yoot