Run site:- Sapan Sung, Krua Rim Tung Restaurant, near Kanchanpisek Soi 12 (
แขวงสะพานสูง ครัวริมทุ่ง ใกล้ ถนนกาญจนาภิเษก ซอย

12)
By Airport Rail Link (more info)
Get the train to Ban Thap Chang.
When you get down to the ground walk for 100m heading out of town before turning left to the motorway frontage road.
Take the footbridge to cross the motorway to the frontage road on the far side.
Get a taxi heading out of town and ask the driver to take you to Kanchanpisek Soi 12 (ถนนกาญจนาภิเษก ซอย 12).
Just before you reach the soi you will see the restaurant on your left.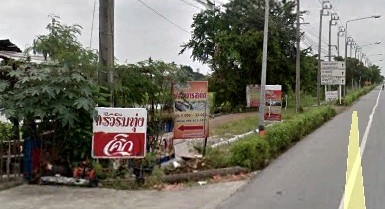 Take the Sri Rat (Rama 9) expressway towards Suvarnhabhumi airport. Take the first Srinakarin exit.
Get down onto Rama 9 Road and take a left onto Srinakarin Road towards Bang Kapi.
Continue for about 800m and follow the signs to Krunthep Kreetha taking you on the new intersection flyover.
Follow signs for Krungthep Kreetha and then Rom Klao and stay on the new road.
After about 6km, you will have to exit left. You are now on the outer ring road (Kachanaphisek) service road.
Stay on this road for about 900m passing a temple on the left. Cross over a klong bridge and the restaurant is on the left.
Useful words to say to your driver
Turn left Leo sigh
Turn right Leo kwah
Straight on Trong pie
Stop Yoot