Run site:- Lat Krabang - Krua Khun Noi 2 Restaurant (
ลาดกระบัง ถครัวคุณหน่อย

2)

Note: It is rainy season so expect wet shoes!. Bring a torch. Take a mask with you as you will be passing through a school.
By Airport Rail Link (more info)
Take the train to Lat Krabang.
Outside the station get a taxi and ask the driver to take you to Soi Pattana Chonabot 3 (ชนบท 3).
Turn into Chonabot 3 and if approaching from the Motorway parallel road after 1.9km turn left into the restaurant.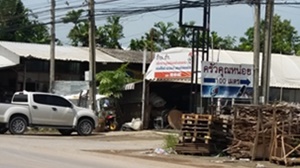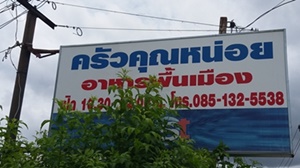 All distances are approximate.
Take the Rama 9 Expressway east towards the Chonburi Motorway.
Cross Sri Nakarin Road and after a little under 1km just before the footbridge filter left into the frontage road, turn left into Soi Krunthep Kreetha 8, drive to the end.
Turn left onto the the new Sri Nakarin–Romklao Road.
Head west about 380m and take the narrow U-turn left under the road (keep your eyes peeled!). If you miss this U-turn carry on to the next U-turn.
Return to the new Sri Nakarin–Romklao Road now heading east. Go 5.4km, cross the Outer Ring Road and carry on.
At 7km keep left and do not take the next flyover. U-turn under the Sri Nakharin–Romklao Road and after 100m filter left into Soi Pattana Chonabot 3.
After about 800m turn right into a small dirt road soi (HHH sign). After 170m turn left into the restaurant car park. Restaurant signs in Thai.
Useful words to say to your driver
Turn left Leo sigh
Turn right Leo kwah
Straight on Trong pie
Stop Yoot