Run site:- Phong Phet, Ngam Wong Wan Road Soi 26 (
ซอยงามวงศ์วาน

26

สี่แยกพงศ์เพชร ร้านลาบร้อยเอ็ด

)
By Car/Taxi
The run site at a local Isan restaurant hidden behind shop houses at the Phong Phet intersection.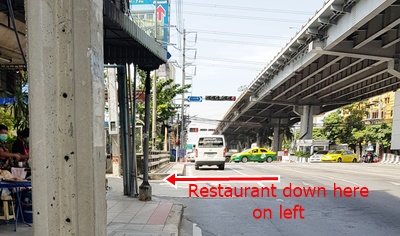 From Ladprao junction head north on Vipavadee Rangsit Road.
Turn left onto Ngam Wongwan Road towards Khae Rai and zero your odometer when crossing the railway lines.
Continue west passing Klong Prem Prison and move to the left lane under the sign to Phong Phet.
At 1.5km get in the far left lane to avoid the Phong Phet flyover.
At 1.8km turn left at HHH into Soi 26 which is 300m after Soi 28.
Go for 100m, turn left and park in the parking area behind the shop houses and the restaurant ร้านลาบร้อยเอ็ด
If you miss Soi 26 turn left at the traffic lights into Prachachuen Road.
After 400m turn left at the first bridge over Klong Prapa.
After crossing the bridge turn left again and drive back along the klong. The restaurant is on your right 100m before you reach Ngam Wongwan Road
From expressway to the north after B10 toll take the exit to Phong Phet and come down on Ngam Wongwan Road heading east towards Phong Phet intersection.
After 1km turn right at the cross roads on to Prachachuen Road.
After 400m turn left over Klong Prapa and follow the directions above.
Traffic in this area are very bad. So allow at least 30 minutes extra to your travelling time.
Useful words to say to your driver
Turn left Leo sigh
Turn right Leo kwah
Straight on Trong pie
Stop Yoot