Run site:- Pra Samut Chedi, Sin Nam Ngoen Resort, Subpailin Fishing Park, Suksawat, Sa Khla
Warning! Do not use Google directions to this location unless you can drive along klong paths. Follow the directions below.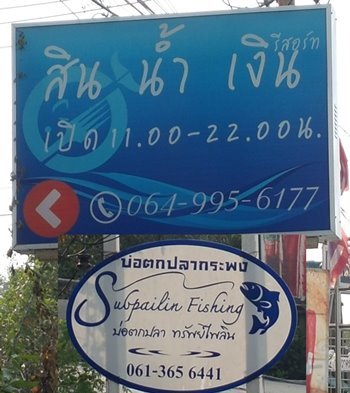 Get on the elevated Expressway and follow signs for Dao Khanong. After crossing the Rama 9 Bridge take the first exit for Suksawat Road.
Alternatively use the industrial link road from Rama 3 Road to reach Suksawat Road.
Keep going straight down Suksawat Road and after about 12.5km when you reach a three-way junction turn right.
After 2.5km cross over a large khlong and then turn right under a red archway. Zero odometer.
Continue on this road for 7.3km and then turn left. Those using a navigation device can click on this link.
Follow this road for 1.2km (tip! after about 500m opt for the higher level paved road) before turning right and carrying on along the road for the last 500m taking you to the car park at the restaurant.
Time taken driving from Asok, leaving at 3.20 pm on a Wednesday afternoon was 45 minutes and total distance to reach the run site via Rama 3 Road was 37km.
Useful words to say to your driver
Turn left Leo sigh
Turn right Leo kwah
Straight on Trong pie
Stop Yoot