Run site:- Next to Pratunam Boat Pier, Krua Aroi (
ประตูน้ำ ครัวอร่อย

)
By Airport Rail Link (more info)
Get the train to Ratchaprarop station and walk down Ratchaprarop Road to Klong Saen Saeb.
Cross the klong and at the first opportunity turn left.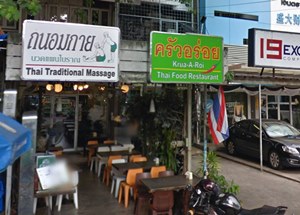 By MRT Blue Line (more info)
Get the train to Petchaburi station and leave by Exit 2.
Walk to the boat pier and get a boat heading towards town.
Get of at Pratunam and then cross the klong to reach the restaurant.
Get the train to Chitlom station and leave by an exit beyond Exit 1.
Walk up Ratchadamri Road and turn right just before the klong bridge.
Get the boat to Pratunam.
After alighting cross the klong and look for the restaurant.
Not recommended, but if you insist follow the map.
Useful words to say to your driver
Turn left Leo sigh
Turn right Leo kwah
Straight on Trong pie
Stop Yoot