Run site:- Khao Hom, Khet Chom Tong, Rama 2 Road Soi 28 Yaek 12 (
แขวงจอมทอง ถนนพระราม2 ซอย 28 แยก12

)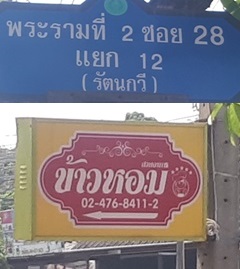 Take the train to Wutthakat and leave the station by Exit 4.
Go down to street level, cross Wutthakat Road and find a taxi heading south.
Ask the taxi to take you to Rama 2, Soi 28, Yaek 12 (ถนนพระราม2 ซอย 28 แยก12). This is about 3.8km from Wutthakat station - about B50 or B60).
When you reach the end of Wutthakat Road turn left and after 200m turn right Chom Tong Soi 19. This becomes Rama 2 Soi 28.
After about 1.8km go over a steep klong bridge, and 50m further on turn left into Yaek 12. Go in about 50m and you will find the restaurant on your left.
Follow the directions above or the map.
Useful words to say to your driver
Turn left Leo sigh
Turn right Leo kwah
Straight on Trong pie
Stop Yoot