Run site:- Sapan Sung, Srinakarin-Romklao Road (
แขวงสะพานสูง ถนนศรีนครินทร์-ร่มเกลัา ร้านสยามเบญจมาศ จิ้มจุ่มเงินล้าน

)

All distances are approximate
By Airport Rail Link (more info)
Take the train to Ban Thap Chang.
When you get down to the ground walk for 100m heading out of town before turning left to the motorway frontage road.
Use the footbridge to cross the motorway to the frontage road on the far side.
Get a taxi and show the driver the Thai at the top of this page.
Head out of Bangkok on the tollway on top of Rama 9 Road.
As you approach Srinakarin Road, look for 'Exit 2-05 Sri Nagarindra Road', and that will take you back down to ground level and Rama 9 Road. Follow Rama 9 Road for a km or two, then turn left into Srinakarin Road.
Go along Srinakarin Road for about 800m and look for the turn off to Krungthep Krita. This will take you up and over and on to Krungthep Kreeta Road.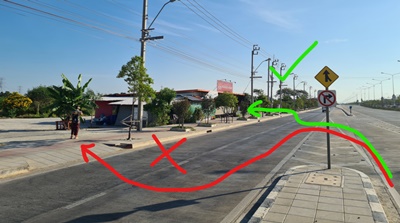 From now on follow the signs to Romklao Road, which will take you down an underpass, then up to the Srinakarin-Romklao Road. Follow this road for 4km and go over the new bridge crossing Kanchanaphisek Road.
As soon as you return to ground take the exit to the frontage road. The restaurant is adjacent to frontage road entry.
Warning: It can be a little tricky getting into the restaurant car park since it is almost immediately after you enter the frontage road. Enter the car park AFTER you've passed the restaurant. Do not attempt to enter the car park before passing the restaurant ... see photo above.
If the traffic doesn't allow you to get into the car park and you are in a taxi, go an extra 50m down the road, get out the taxi there and walk back.
If you are driving merge on to the frontage road as you normally would, continue for 1km and make a U-turn under the highway. Come back while staying in the frontage road. Make another U-turn, and then you'll be easily able to get into the restaurant car park.
If you miss the exit to the frontage road after crossing Kanchanaphisek, then the alternative U-turn directions above will get you back to the restaurant.
Useful words to say to your driver
Turn left Leo sigh
Turn right Leo kwah
Straight on Trong pie
Stop Yoot