Run site:- Taling Chan, The Junction (657
ถนนสวนผัก ตลิ่งชัน

)
By SRT Red Line
Take the Light Red Line to Taling Chan.
Take the tunnel that goes under the tracks to the restaurant.
By Blue Line
Take the MRT to Bang Khun Non.
Take a taxi along Liap Thang Rotfai Taling Chan Road which is the main intersection at the Bang Khun Non station. Liap Thang Rotfai Taling Chan Road takes you directly to the Red Line Taling Chan Station.
By Car/Taxi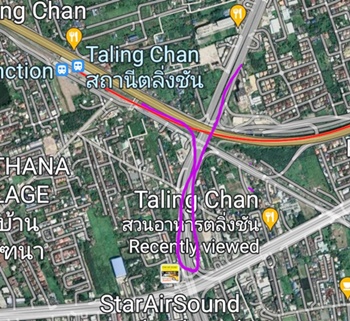 Expressway from Chatuchak. Get off at Exit 6. It is well marked to station.
Coming from the north on Ratchapruek. For the most part ignore Google maps as it will take you to back roads and into a traffic jam in the last few kilometers. Best is heading southbound on Ratchapruek go towards Rt 338 Borochachachonni as if you want to go east on it go to the left then quick right for U-turn onto Ratchapruek after the U-turn stay to the left. "DO NOT GO UP THE RAMP ON THE RIGHT" Stay left to Taling Chan Station. Outlined in purple.
For road travelers. if you are coming from the south on Ratchapruek or Liap Thang Rotfai Taling Chan road when you get to the Taling Chan station stay in the right lane as you pass the station. There is a new U-turn bridge 700m past the station it is a hard right turn that takes you over the tracks. It is not on Google maps street view.
Do not use the U-turn bridge on the left before the train station.
Useful words to say to your driver
Turn left Leo sigh
Turn right Leo kwah
Straight on Trong pie
Stop Yoot