Run site:- Yen Akard Soi 2, Baan Pussy Virus (
เย็นอากาต ซอย

2 30/4)
By MRT Blue Line (more info)
Get the MRT to Lumpini and leave the station by Exit 1.
From the station either walk (2km) or get a motorcycle or taxi. If you don't want to walk leave by Exit 2 and get a taxi or motorbike at the top of Sathorn Road. Show the driver the Thai text at the top of this page. The taxi must turn left immediately into Sathorn Soi 1.
Walk along Rama 4 Road (heading away from Lumpini Park).
After 400m turn right into Soi Suwan Sawat and continue down this soi to the end (try to avoid getting run down).
At the end of the soi turn left into Soi Sri Bampen, and the almost immediately turn right into Soi Yen Akard (7-11 on corner).
Go 550m down Soi Yen Akard and turn left into Soi 2. Take the first (small) turning on the right and the hare's house is no. 30/4 on the left.
Follow the map below.
*** Make sure you don't block any neighbour's entrance when you park ***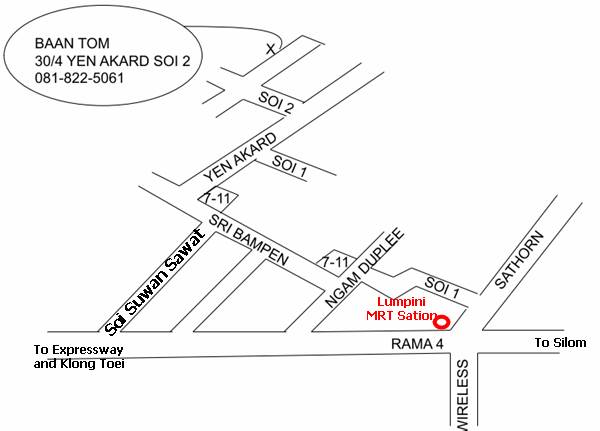 Useful words to say to your driver
Turn left Leo sigh
Turn right Leo kwah
Straight on Trong pie
Stop Yoot